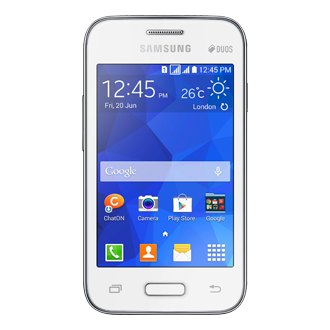 The Samsung Galaxy Young 2 is a multi-touch smartphone. It has a dimension of 109.8mm x 59.9mm x 11.8mm. It weighs about 108 grams while the average weight is 137 grams so the phone is a lot more lighter than the average. It has a display resolution of 320 x 480 pixels. There are light sensor and proximity sensor installed on the phone.
The camera is 3 megapixels. It has a single core of 1000 MHz. It has a built-in storage of 4GB. The phone's battery capacity is 1300mAh. There are only 2 pros for this phone and 7 cons. For pros, there are a dual SIM card support and fast mobile data support (4G). There are some speakers such as earpiece and loudspeaker.
There are quite a lot of notifications for this phone such as haptic feedback, music ringtones (MP3), polyphonic ringtones, vibration, flight mode, silent mode and speakerphone. There are also some sensors installed on this phone such as accelerometer, compass, voice dialing, voice commands, voice recording.
If you would like to buy this phone, there are two colours which you can choose such as white and black. In my opinion, this is a moderate phone as there are many notifications, sensors but there are 7 disadvantages of this phone. I will give it a rating of 6.5/10.
Photo courtesy of: http://images.samsung.com/is/image/samsung/ae_SM-G130HZADXSG_000250336_Front_white_thumb?$L2-Gallery$